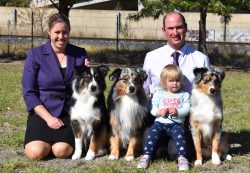 Welcome to our Kennels
We are based in Somerville on the Mornington Peninsula, Victoria. Our dogs are raised in a family enviroment and enjoy the lifestlye of 4 acres of country living. Our breeding program focuses on maintaining breed type and producing dogs with sound movement, great temperaments and the brains and beauty to match. We ensure all dogs complete all health and DNA testing available.
In 2009 our foundation bitch Flirt joined our family. Before that we both had Border Collies for about 15 years.
Our families are heavily involved in the Dog world, actively training and competing in Conformation, Obedience, Rally, Tracking and Herding. Many of our puppies go on to compete in Agility and other performance sports as well as be loving family members.
Ross is an accredited Full panel ANKC Judge for Obedience, Rally O, Endurance and Herding. He has consistently judged throughout Australia, mentored new Judges and had great success with all of his dogs.
Renee has grown up with Border Collies and Golden Retrievers and actively participated in Obedience, Rally and Agility. Her first Aussie Whisper joined our family in 2013. Renee is now mainly focussed on Conformation, Obedience and Rally.
If you have any enquiries about one of our puppies please feel free to email us.
Dogs Victoria Membership: 3100004330
Breeding for Beauty, Intelligence and Versatility